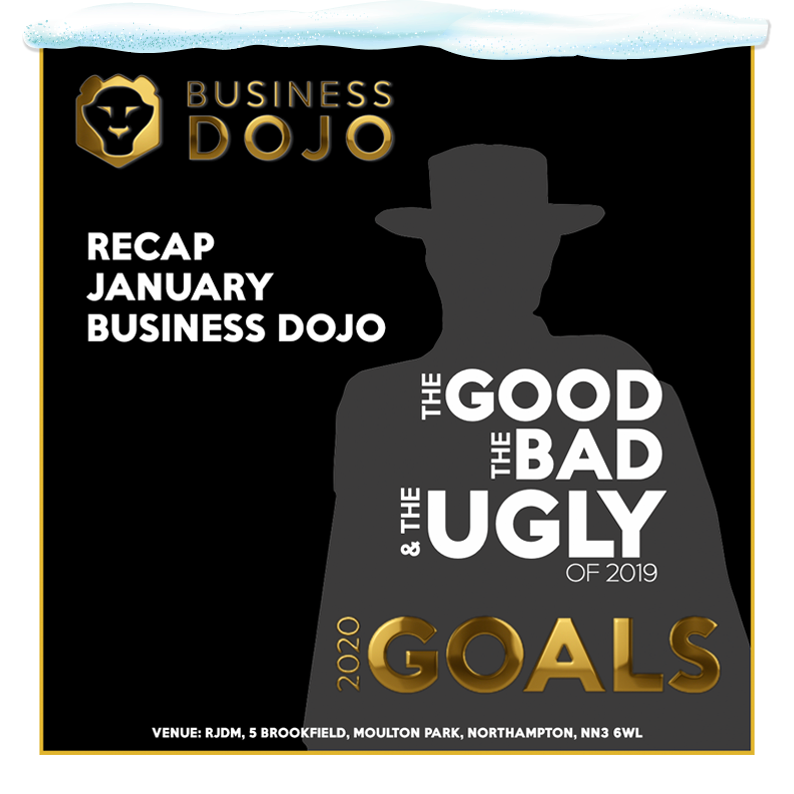 The GOOD, The BAD & The UGLY 2019 - 2020 Goals
A SUMMARY OF JANUARYS BUSINESS DOJO for Those who missed it or want to re-cap
Get your business in shape to SUCCEED
Videos Explaining the content
Personal Assessment & Business Assessment
The Best of 2019
The Future & 2020
Get this Awesome Module for just £65 ( $163 ) &nbsp
was &pound125.00 / $164.00
Get This Awesome Module
Buy it Now
This Module The GOOD, The Bad & The Ugly with 2020 Goals is a Dynamic representation of Videos, Slides & Q&A Taking the Best of 2019 and Planning for an EVEN BETTER 2020.
Harness the power of The Pride!
Take your business to all-new heights. Learn how to think bigger, achieve greater successes and get out of limiting 'middle of the road' mindsets.
Do you believe that having what you want is possible? Join the #SuccessLeavesClues Online Business DOJO and MAKE it reality!

WHAT IS A DOJO?
Traditionally, a DOJO is a place used to train in martial arts. Translated from Japanese, it literally means "place of the way". A DOJO is a place for immersive learning, meditation, growth and building strength.
WHAT IS THE #SUCCESSLEAVESCLUES ONLINE BUSINESS DOJO?
The Business DOJO is a virtual & physical space unlike any other. With two hundred times the power of any other business network or coaching, we bring together small groups of exceptional business leaders, to share success, mentor, build best practice and achieve huge results together.

This Module is what we covered in Januarys DOJO Join us for Februarys DOJO
WHY JOIN NOW?
Ask yourself – what would you be achieving right now if there were no limits to your success? What would life look like? Inaction comes from a place of fear – fear of failure, fear of trying, not knowing the way.
In the Online Business DOJO you will learn how to conquer your fears and be free to reach heights you could never even imagine. Time is precious. How you choose to spend it dictates the results you see. You owe it to yourself, your family, your business to MAXIMISE your potential, see real results and live the success you dream of.
THE BUSINESS DOJO WILL:
– Encourage learning
– Boost business growth
– Ask the awkward questions
– Challenge you beyond what you thought possible
– Get real results
– Build accountability
– Distil discipline
– CHANGE YOUR LIFE
HOW?
– Group learning
– Network of expertise and accountability
– Sharing and feedback loops
– Interactive materials and goal setting
THE DOJO DOES NOT:
– Have lengthy introductions
– Talk trivial
– Waste time
– Fail!
JOIN TODAY WITH A FULL MONEY BACK GUARANTEE
Our programmes WORK. Putting into practice the teachings from the DOJO will more than cover the cost of joining as your business goes from strength to strength and if not, then have your money back!